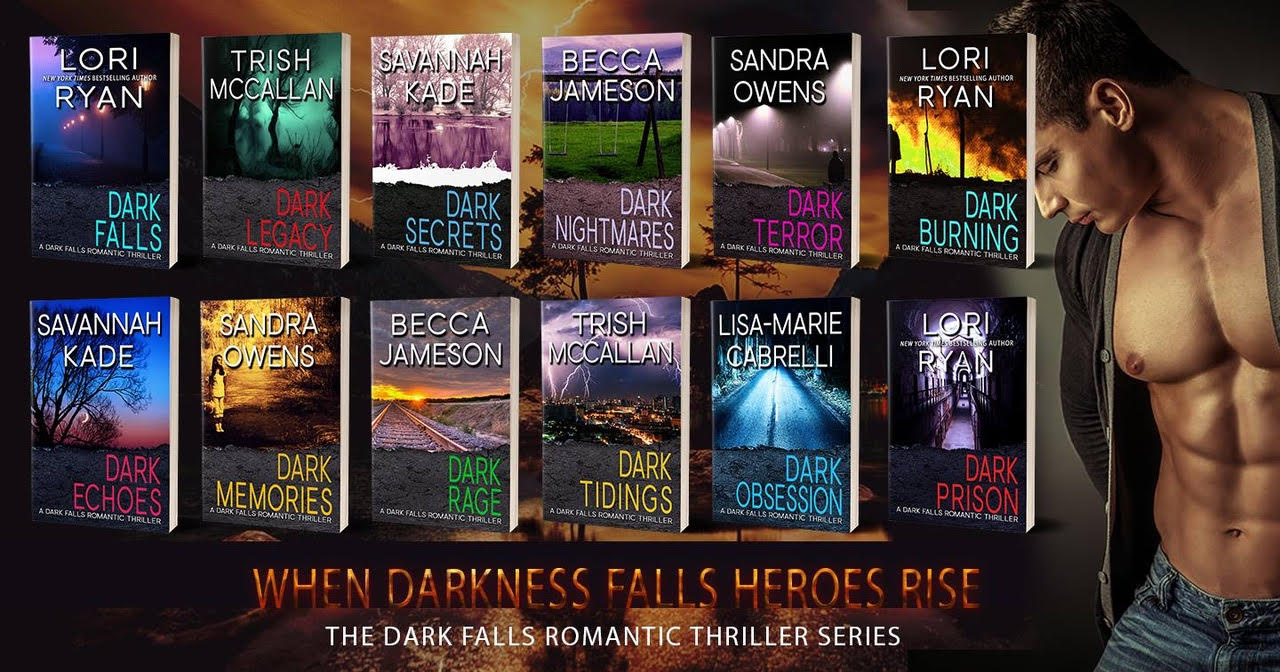 The Dark Falls, CO series is a multi-author series set in Dark Falls, CO. Bad things happen there, but there are heroes that rise when the darkness comes. Follow the series to meet these heroes and the heroines who claim their hearts. Each book in the series can be read as a standalone book, but readers may enjoy the series best if read from the beginning.
"Must read romantic thrillers." - USA Today's Happily Ever After
Dark Falls ~ Lori Ryan (Book 1 – October 9, 2018)
A cop hunting a violent thrill seeker. A woman from his past. Will their history and heated attraction put his case on ice?
Detective John Sevier never wanted to be anything but a cop. When a string of jewelry store heists threatens the woman he let get away years before, he'll stop at nothing to bring the adrenaline junkie gang leader to justice.
Ava McNair never looked at her life as a sacrifice. She loves taking care of her dad and running her family's jewelry store with her special needs sister. So what if that meant dropping out of college and leaving behind a man who just might have been the one? When fate gives her and the detective who got away a second shot at love, will she step up and take it or will life tear them apart again?
With Ava in the path of a killer, will John be able to move fast enough to take down a violent man set on wreaking as much damage as he can before he goes down?
Grab Dark Falls from NY Times bestselling author Lori Ryan and get ready for a night of "one more chapter" reading!

Dark Terror ~ Sandra Owens (Book 5 – January 8, 2019)
Librarian Cara Jennings is probably going to die… and it's all because of a dog. Until the night she follows a little dog trailing a leash into the park, thinking to rescue someone's lost pet, and witnesses a murder, she's led a quiet life, doing her best to come to terms with the death of her brother. But when the killer starts hunting her, Cara only feels safe with Gabe Calder, the detective assigned to the case.
Gabe Calder lives to catch bad guys. He's organized to the extreme, focused, and dedicated. His attraction to Cara Jenner is inconvenient. She's the only witness to his murder case and strictly off-limits. Gabe knows he should step back from Cara as soon as he realizes he's seeing her as more than a witness. That fact hits home the day he kisses the sexy librarian.
In spite of taking precautions to keep Cara safe, she turns up missing. It becomes a race against time to save her from the hands of a killer. Failure is not an option.
Dark Memories ~ Sandra Owens (Book 8 – March 26, 2019)
Detective Delaney Harrison lives for slapping handcuffs on those who prey on women and children. She will do everything in her power to keep another girl from suffering the fate of her sister. There was a time when Delaney also lived for Zach Jamison, but that was before he betrayed her, and taught her that loneliness beat heartache any day. The last thing Delaney expects is to find Zach back in her life.
Zach Jamison has never forgotten the one woman he has ever loved. When his daughter is kidnapped, Delaney Harrison is the only cop he trusts with her case.
As they spend time together searching for Kali, the old feelings surface, but Delaney is determined to walk away once Zach's daughter is found. He broke her once. She will not allow him to do it again.
Zach has two goals, one short-term and one a long game. First find his daughter, and then win Delaney back.
Dark Tidings ~ Trish McCallan (Book 10 – May 21, 2019)
Dark Prison ~ Lori Ryan (Book 12 – July 30, 2019)